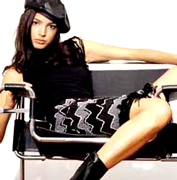 Welcome to the Lib Guide for Fashion Apparel. An examination of the scope of fashion industry activities.
The production and distribution of fashion products are emphasized as well as the interaction of various facets of the industry.
By using the tabs above, you will be able to find information on the fashion industry from books, journals and electronic sources at the library or from your home computer.
If you experience any trouble finding something you need, contact me and I'll respond quickly. Good luck!