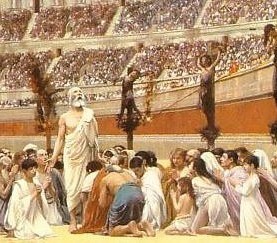 The blood of the martyrs is the seed of the Church.
Traditional misquotation: more accurately, `Our numbers increase as often as you cut us down: the blood of Christians is the seed.' Tertullian (c. 160 - 225 AD) Apologeticus
Quote found using Credo Reference database.
Information Literacy Learning Outcomes
1. Students will become aware of general information sources on religion.
2. Students will find books about persecution using the library catalog.
3. Students will learn to find articles using information databases available in the library.
4. Students will learn how to evaluate the academic usefulness of websites.
Leecy Barnett
Contact Info
First Floor Library next to Information Desk.
Phone: 561-237-7059
Send Email